Mobile App Development
We design and develop mobile apps that accelerate your business growth
Elevate Above Your Competitors
Infotronics Integrators is a top-tier mobile app development company helping businesses to dominate the highly competitive app market. With our creativity and coding dexterity, we create a synthesis of aesthetic, fluid and high performing apps. So what you get is an app that is beautiful yet a powerful beast! Whether it be Android, iOS or cross-platform, our developers cater the best service to make your app a masterpiece.
Our Reliable App Development Process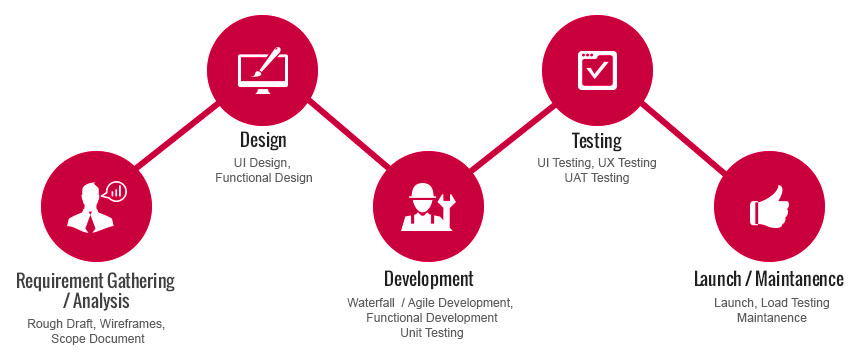 Our Mobile Development Expertise and Offerings

Android
Our seasoned Android Developers are coding gladiators! We develop anything and everything thrown at us into a fully functional app. If you have an idea, we'll accomplish it for you. It's that simple! Our experience, high coding standards and best practices make us a world class Android development company. We adopt latest Google trends and stay up to date with new technologies such as Kotlin, Dagger 2, RXJava and Android Architecture Components to open a new dimension of possibilities and user experience. With creative design, amazing features and functionality, we develop world-class apps that become the hot favorite in Google Play Store.
iOS
We are the apex iOS app development company developing highly secure, high-performing, better optimizing, crash-proof and elegant iOS apps. Our developers have typed hundreds and thousands of lines of quality code that have turned into marvelous iOS applications. You get an edge over your competitors with our services as your iPhone, iPad and Apple Watch apps are powered by the latest technology and tools. And not to forget the engaging app design that creates exceptional experience for your users.

React Native
React Native is gaining much popularity for developing native Android and iOS apps. We have built high performing and seamless mobile apps for Android and iOS platforms. Our React Native developers are JavaScript Ninjas. That's the reason the code we write turns into majestic apps. You not only get a flawless and fluid app but using the vast React Native Component library we also make sure that your app is deployed rapidly. With the combination of our dexterity, latest technology and tools such as Redux, Thunk Middleware and Redux DevTools your app provides the ultimate user experience and performance.

Ionic
If you are looking forward to penetrating into multiple OS markets by developing just one app then a hybrid app is what you need. We develop fully functional and feature-rich hybrid mobile apps that run on cross-platform viz Android, iOS and Windows Phone yet provide native like performance. Our Ionic developers at Techuz are experts in creating unparalleled cross-platform apps with graceful design and powerful performance. Using the mobile SDK, UI library and several other functions of this framework and synthesizing it with our Angular, HTML and CSS expertise we craft apps that reigns the multiple OS markets.
Other Mobile App Development Service
App Design and Prototyping
Enchanting UI and UX plays a crucial role in the success of the app. Our prolific design team has mesmerized the users with their divine Android and iOS app designs. We'll help you to provide the supreme level of user experience and engagement to your target audience through our aesthetic mobile app design and prototyping service.
Wearable App Development
The mobile app market is evolving with the time and wearable devices are the new trend. As a leading wearable app development company, we develop cutting-edge solutions that give you an advantage in the changing market. Using the latest Android Wear APIs for Android and watchOS for Apple, we develop sophisticated and feature-rich apps for the wearable devices.
App Maintenance and Support
Being a top mobile app development company we provide mobile app maintenance and support to our clients. We are not only proficient in developing robust and scalable apps but also provide quality support and maintenance after deploying.
Custom Enterprise App Development
Infotronics caters custom enterprise app development service for boosting your companies productivity and achieve your business goals. We have developed purposeful custom enterprise mobile apps to help the companies work efficiently. Have a chat with our mobile app developers and we'll help you boost your productivity!
Mobile App Cloud Deployment Service
We provide cloud deployment service for your mobile apps. We use the leading cloud deployment service like Amazon Web Service(AWS) and Google Cloud to make sure that you get the best computing, processing, database and storage facility for your apps. We manage and maintain your cloud solutions so that you can focus on your customers and business.