Google Workspace Partner in India - Google Cloud Partner
Google Workspace (Formerly G Suite) is an all-in-one suite of web applications that assists your team to collaborate better and generate business productivity. Formerly known as G Suite, it offers numerous features and functionalities such as Gmail, Docs, App Maker, Google Meet, Cloud Search, and lots more.
Google Workspace helps businesses to boost their overall productivity and value significantly with its highly collaborative and seamless tools. It can help to lower the maintenance and IT costs, irrespective of the size and type of business.
Google Workspace Features
Google Workspace (Formerly G Suite) is a strong cloud-based collaboration and productivity tool that ensures a business works efficiently. Trusted by more than 5 million active users, it is designed for your workplace. Buy Google Workspace from Infotronics Integrators (I) Pvt.Ltd- An authorised Google Workspace reseller which will help you with all the professional support needed during the setup phase.
Easy Collaboration With Google Docs
Google Docs helps a team to collaborate anytime, anywhere. A team can revise, and manage a doc together in real-time.
Merge Data On Sheets
Combine your entire data in a single "Sheet" with IMPORTRANGE function. It is recommended to import data rather than merely copying it.
Extract Valuable Work Insights
The Work Insights dashboard helps a user to generate information and manage work in a better way. This tool helps to generate analysis, reports, etc.
Close Caption In Google Slides
"Closed captioning" feature enables Slides to transcribe whatever a user speaks on the slide. Click on Present and Closed Captioning.
Smart Compose On
A predictive writing suggestion feature that enables Gmail to autocomplete email as a user composes. It auto-fills in commonly used sentences, etc.
Security And Compliance
Google Workspace security platform is designed to detect threats that can affect cloud-based apps. This is trusted by businesses to enable optimum higher security.
Full Administrative and Data Control
Administrators can deeply customize Google Workspace to meet their technical, branding and business requirements. Integration options let you connect it to your existing IT infrastructure.
Single sign-on API connect Google Workspace to your existing authentication system

User provisioning utility and API connects it to your existing user directory system.

Email routing and email gateway support let you run Google Apps alongside an existing email solution.

Email migration utility and API let you bring mail from your existing email solution into Google Workspace.
System branding and data ownership give Google Workspace your look and feel, and ensures customer ownership of employee data.
Custom user accounts on your company's internet domain.

Custom logo and colors in the applications.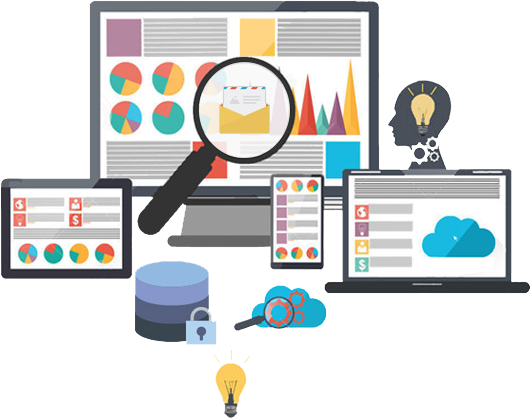 Benefits of Google Workspace
On expanding upon the ownership of the email account, Google Workspace can help companies increase workplace productivity and eliminate inefficiencies
Data Protection
A user can store, access, manage, and share data files safely with Google Workspace. It ensures to safeguard the business data even when it is lost.
Easy Sharing
You can easily share Google documents or data files with anyone. You can also restrict another person's accessibility by enabling view-only access.
Unlimited Storage
It provides unlimited storage for your applications, data, files, docs, media, etc. This will help a user to store everything they need.
Economical Platform
The suite plans are economical and with a subscription, users can use features such as eDiscovery capabilities, unlimited data storage, etc. Pay as you need.
Custom Business Domain Email ID
With Google Workspace (GSuite), a company gets ownership of the email accounts. Instead of using name@gmail.com, a user will be able to use a custom email address at a domain (name@yourcompany.com).
CRM Integrations
Google Workspace is compatible and highly synced with CRM solutions. This enables seamless communication and reporting where companies can track leads, prospects, etc.
Zoho Mails Pricing and Plans
Secure and professional email for your business
Business Starter
2,520
User/Year + Tax
Custom & secure business email
100 participant video meetings
30 GB cloud storage per year
Security & management controls
Standad support
Business Standard
10,080
User/Year + Tax
Custom & secure business email
150 participant video meetings + recording
2 TB cloud storage per year
Security & management controls
Standad support (paid upgrade to Enhanced Support)
Business Plus
10,080
User/Year + Tax
Custom & secure business email + eDiscovery, retention
250 participant video meetings + recording, attendance tracking
5 TB cloud storage per year
Enhanced security & management controls including Vault and advanced Endpoint management
Standad support (paid upgrade to Enhanced Support)
Enterprise
Contact Sales for Pricing


Custom & secure business email + eDiscovery, retention
250 participant video meetings + recording, attendance tracking
5 TB cloud storage per year
Enhanced security & management controls including Vault and advanced Endpoint management
Standad support (paid upgrade to Enhanced Support)